Large heat pumps: the future-proof technology for the new industrial revolution
Article by the European Heat Pump Association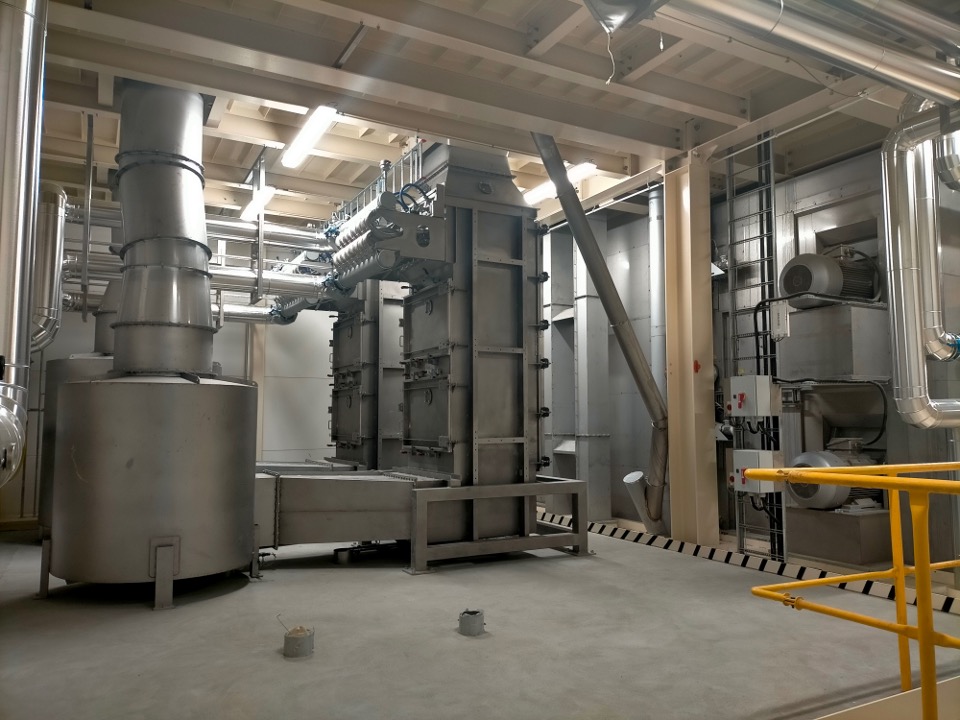 Cover Photo: Courtesy of Sander Geelen – Geelen Counterflow
As the world strives to fight climate change and reduce greenhouse gas emissions, the decarbonisation of industrial heat supply has become a top priority. With the growing deployment of advanced clean energy technologies, such as large-scale heat pumps, there is newfound hope for decarbonising manufacturing processes, in line with the EU's 2050 net-zero target.
Industrial heat pumps  are energy –efficient devices that can extract heat from various sources – such as ambient air, ground, water, or waste heat – and upgrade it to temperatures suitable for industrial applications. Replacing gas boilers and furnaces with heat pumps allows energy consumption to be optimised while reducing emissions and improving air quality. 
Real world examples of these benefits were presented at a recent webinar, organised by the European Heat Pump Association. The online event, entitled "Fostering the decarbonisation of industry with large-scale heat pumps: case studies and real-world applications", was attended by over 130 participants, was organised within the framework of SPIRIT: an EU project, funded under the Horizon Europe Programme, which aims to foster the uptake of heat pump technology in the food and beverage, pulp and paper industries. 
The webinar kicks off with Benjamin Zühlsdorf, project manager at the Danish Technological Institute (DTI), whose opening statement emphasises the importance of collaboration between technology suppliers, process equipment manufacturers, and end-users from various industries. Zühlsdorf highlights that technology awareness, development, and favourable conditions, such as regulatory frameworks, subsidies, incentives, and lower electricity costs, are primary drivers for market potential and demand.
"High-temperature heat pumps are a key technology for industrial decarbonization towards 2030 and various technology developments are ongoing. Bringing these technologies into application is the main challenge for the coming years" explains Zühlsdorf.
He is followed by Christof Fleischmann, sales engineer at Spilling Technologies GmbH, who brings in the perspective of compressor manufacturers. Compressors are key components of industrial heat pumps to produce steam. Process steam is widely used in industry for a variety of purposes, including heating, drying, sterilisation, and power generation from waste heat. In particular, Fleischmann presented the Spilling Piston Steam compressor and its combination with the heat pump technology, showcasing a series of applications in the chemical and paper sectors
To put it into words Fleischmann's words, industrial decarbonisation requires "higher efficiency" and "heat pumps are the efficiency machines par excellence."
Industrial heat pumps are highly versatile and are also applicable to a wide range of drying processes, as demonstrated by Sander Geelen – CEO of Geelen Counterflow with case studies from Norway and Germany to Poland and South Korea. According to Geelen, drying accounts for more than half of the total energy consumption in the extrusion process and his Counterflow electrical dryers help close the loop on waste heat, with waste and water recovery rates up to 65% and a 99% reduction rate in CO2 emissions. This is why "industrial scale heat pumps facilitate both the recovery of most of waste heat produced and the full decarbonisation of process heat up to 200°C" explains Geelen.
The discussion delves further into case studies from popular food and beverage brands such as Nestlé and Innocent Drinks.
With over 2000 brands worldwide and 344 factories in 77 countries, Nestlé is a food and beverage industry powerhouse. Vincent Grass, Nestlé's global refrigeration leader, reassures participants that the Swiss giant is fully committed to cutting its emissions in half by 2030 and becoming carbon-neutral by 2050. According to Grass, almost every Nestlé manufacturing site in Europe has a hot water heat pump as part of its sustainability roadmap and even its headquarters are being heated and cooled through heat pumps but "we need heat pumps that can deliver higher temperatures » he explains. "More and more manufacturers are working on the technology. This must happen faster" Grass concludes.
John van Rooijen, Development Manager of Sustainable Energy Solutions at GEA Heating & Refrigeration Technologies is a heat pump veteran. The company is the one behind Innocent's carbon-neutral factory in the Netherlands, which helped the juice and smoothie producer bring down its fossil fuel demand from 10 megawatts to… zero.  In van Rooijen's words, the project was successful because all about "Sustainable heat, powered by nature, generated by heat pumps".  
GEA and Innocent recently won the People's Choice Award for the smart heat pump design in the 2021 edition of the Heat Pump Awards.
Don't miss the opportunity to know more about the role of heat pumps in industrial decarbonisation. Explore the slides or watch the recording to discover the transformative potential of this technology.